Painting the Cabinets
Knowing how to paint kitchen cabinets can be very rewarding and save you money, because usually, kitchen cabinets are expensive to replace.
Learning how to paint kitchen cabinets is quick, and really worth it! It is a fantastic way to update your kitchen! Sometimes this is the best place to start. It may look like an intimidating project, but, believe it or not, can be done over one weekend.  You don't even need to be a professional painter.
Even though this is not the most complicated thing in the world, it doesn't mean that you can just go, buy some paint and get started. Actually, you can, but without any guarantee for positive results!  Find out now how to paint kitchen cabinets! Just follow the steps below, without skipping any of them. Your job will be successful, and your efforts – fully rewarded!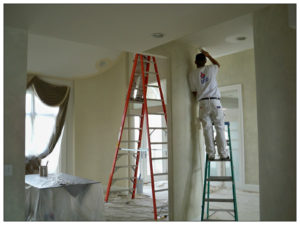 Preparation: Remove hinges, knobs, etc., before starting sanding and painting, and re- install them as soon as you are done and the paint is completely dry. Another option is to tape over, so that you don't 'include' them by accident in your painting project
Clean the cabinets. On the wall or dismounted, with hinges removed or not, make sure that your cabinets are getting really clean before painting. Not just wiped with a damp cloth. Use any type of de-greaser. A new coat of paint needs to grip very well onto the surface and any amount of grease will create problems. Allow the cabinet to dry well after washing
Cover to protect all the countertops, appliances and the floor. Use drop sheets, masking tape, poly, etc. As soon as you are finishing this part, it is the time to open the windows. Good ventilation is important!
Sand kitchen cabinets well. Use fine grit sandpaper and make sure you don't forget any area. Sanding will ensure a better grip for the primer and paint layers. Just don't overdo this process – you don't have to remove all layers of older paint.  Some professional painters use only fine grit sandpaper here.
Apply the primer. One coat of primer is enough. As we are mentioning on our page "how to use paint primer", the primer is important! It will make the paint bond better and will ensure a long, lasting finish. The only situation when you don't need to prime is when you are using the same paint and the same color
Paint. The easiest way is by using a pneumatic sprayer. If you don't have one, choose a high quality brush for the edges, a roller to fill the rest of the surfaces, or a pad applicator. Apply a few thin coats of paint. Apply the second layer of paint only after the first layer is dry. Usually this is enough, unless you have kitchen cabinets made from heavy grain wood and you can apply three layers. It is a good idea to sand lightly before the second application – it will give you a smoother look & better adhesion between the layers of paint.
How to Paint Kitchen Cabinets: Tools
Good brushes: for painting the edges of the cabinets and hard to reach, tight areas. Professional Painter Tip: use a synthetic brush for latex and a natural bristle brush for oils or alkyds
Short, quality roller: any brand new roller will leave some lint. To prevent the lint problem, either wash the roller and spin to dry, or wrap the new roller in masking tape, and remove the masking tape together with the lint. Roll to cover the rest of the surfaces. Start to roll the paint in the middle, to avoid paint drips. After that, take long strokes from the top to the bottom, to avoid roller marks, and your surface will end looking nice and smooth. When shopping for a quality roller, look for beveled edges on the roller, make sure it has no visible seams and is rebounding to its original shape when squeezed
Pad applicators: coming in a variety of sizes. They are very useful to reach tight spots and not only: they can replace the rollers.
Sprayers: offer the best coverage and the best speed to complete your project. Unfortunately, this is coming with a price: more paint wasted and more to cleaning after…
Sprayer nozzle tip: an affordable sprayer purchased at a department store will have a non-reversible tip that will potentially clog. A professional sprayer, with a reversible tip will cost you more, but it won't clog. Expect the paint to dry faster when using this method.
Primer: it depends on the type of paint you are going to use – oil or latex. Usually, oil paint is the choice for a more durable result. Use Bull's eye 1-2-3 or  Perma White primers.
Paint: use melamine paint. It is the best and most durable for painting kitchen cabinets. Not the most easily to use though… Best results while using melamine paint are by painting on three thin coats instead of 1 or 2 thick coats, with enough time to dry in between.
The problem with melamine paint, beside the smell and clean up, is chipping. An option, instead of using oil-based paint is to paint with regular latex and then put on a few coats of water based polyurethane. It turned out to be much tougher then melamine, easier to work with, and also easier to clean up.
How to Paint Kitchen Cabinets: TIPS
How to find out what type of paint has been used before – oil or latex: either use a tester sold in the paint stores or department stores or, try the 'nail test'. Try to leave a mark on the cabinet surface. If you can see the nail mark, then you are dealing with softer latex paint. Overall, it is not difficult at all to figure out how to paint kitchen cabinets!Prevent having dry paint on your tools: between applications, put the roller in a large Ziploc bag, to avoid drying. The pain tray or the brushes can be also covered with large plastic bags
When painting with a roller, paint slowly, in the shape of letter M
If your project is small, consider disposable rollers, especially when using oil based paint. Remember, cheaper, disposable roller will have more lint problems
Ideas for Painting Kitchen Cabinets:
Paint your cabinets in a light color to enhance the natural light in your kitchen
Play with whites and off –whites colors
Use a gloss paint – the natural light will reflect and increase in the room, plus, a gloss paint is easier to clean
Paint your kitchen cabinets in two colors: one for frames and boxes, and the second color for he doors and drawers
Use different textures: rag, feather, or sponge paint your kitchen cabinets
If you have natural wood cabinets you may want to use just varnish and keep the natural look. Use as a primer Shellac to saturate the wood before applying varnish
Remember, learning how to paint kitchen cabinets can be fun! Unleash your creativity!